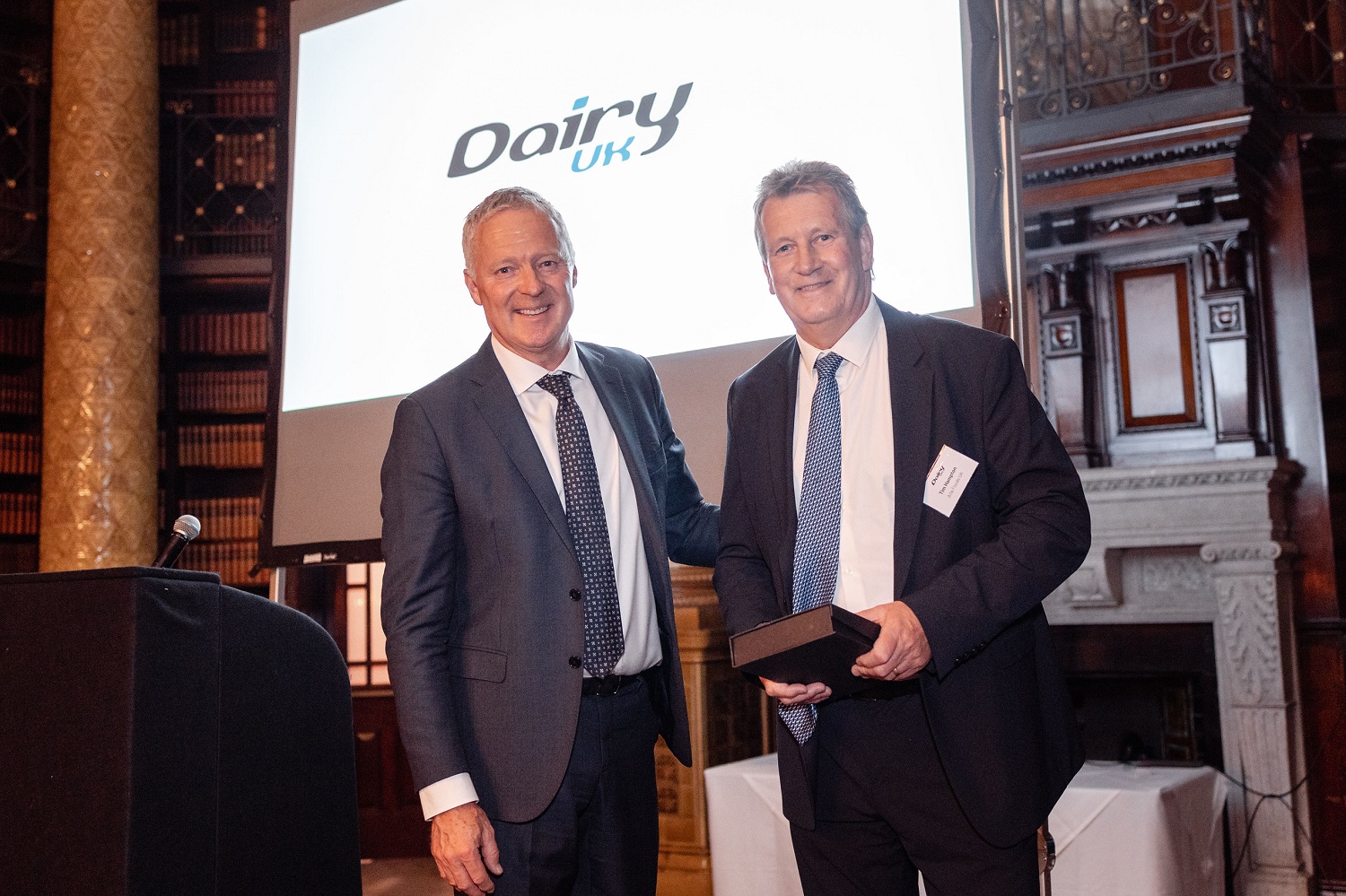 16th June 2022 – Tim Hampton (pictured above) has been celebrated by the UK dairy industry, winning the Dairy UK Award at the Annual Dinner, held at the Royal Horseguards Hotel yesterday.
Tim, who works for Arla Foods UK, has been a key driver behind many of the schemes, initiatives and committees that have improved the standards, safety and assurance of the dairy supply chain for many years, with the Dairy UK award recognising his huge contribution to the sector and the integrity of dairy.
Tim has been an active part of developing and improving a number of food safety schemes, including the due Diligence Scheme, as well as his work as part of Dairy UK's residues group includes the development of the hugely successful 'MilkSure' to train farmers, and which has set a new industry benchmark for best practice and creating more engagement between farmers and vets on antibiotics issues.
Tim was also recognised for his work and dedication to growing and expanding the Dairy Transport Assurance scheme, serving as DTAS Management Committee Chair for over a decade and with his help, the scheme now covers 95% of milk haulage in the UK.
He has also been an incredibly active and invaluable part of Dairy UK's Scientific and Technical Committee for many years providing his expertise and leadership to helping to drive forward all aspects of its agenda.
Commenting, Dr Judith Bryans said: "A huge congratulations to Tim on winning the award this year. Tim has been an active and enthusiastic part of the dairy community for many years now and has been the driving force behind a number of Dairy UK schemes, industry initiatives and the work of many of the committees dedicated to ensuring supply chain integrity. His knowledge and work are outstanding and he is a deserving winner of this year's award."
Tim Hampton commented: "Being able to work together across companies in a non-competitive environment gives true value to the sector and working with Dairy UK has always been a pleasure and I strongly believe in the benefits that it brings to its members. I feel privileged to have been able to work with such talented people and contribute in a small way to its successes"
The Dairy UK award is given at the Annual Dinner to an individual working within dairy, who has demonstrated an outstanding contribution to the sector over the course of their career. The award was presented by comedian and entertainer Rory Bremner at this year's Dairy UK Annual Dinner, at the Royal Horseguards Hotel.