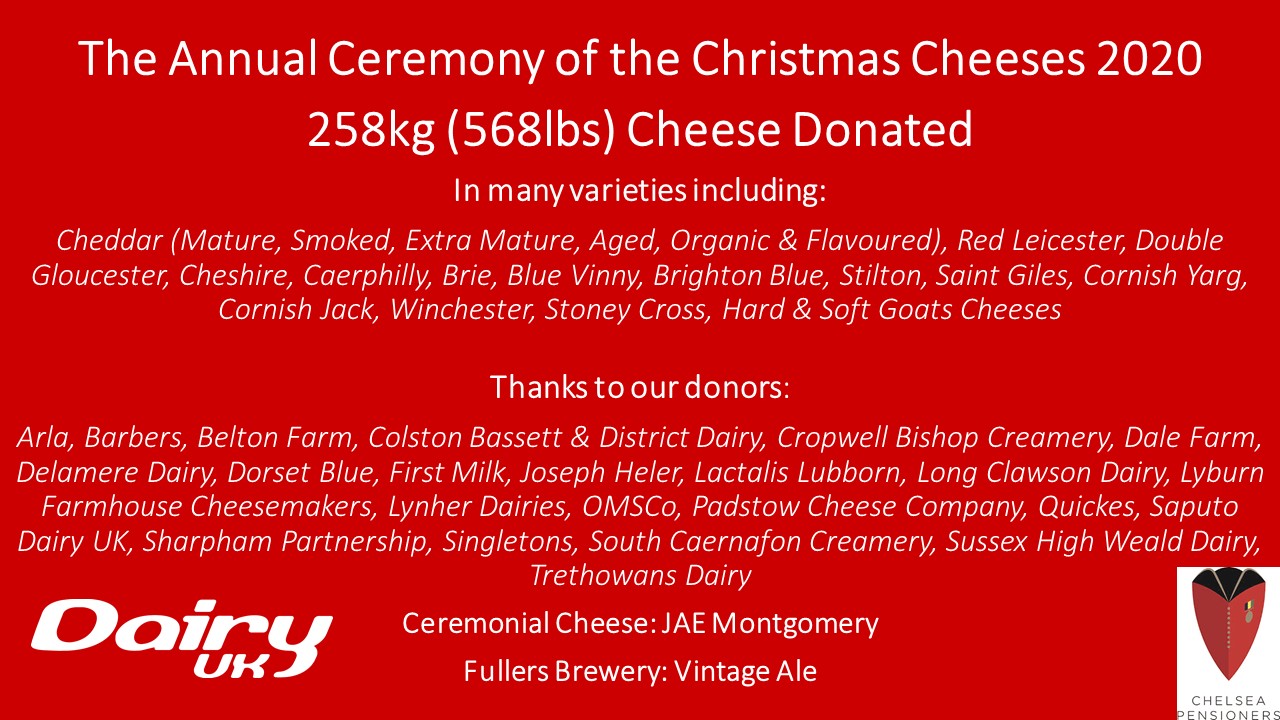 Tuesday 8th December 2020 – The Royal Hospital Chelsea have organised a Covid-friendly Ceremony of the Christmas Cheeses this year, with British Cheesemakers continuing their long history of donations to the hospital.
With last year's ceremony marking a 60-year milestone, the 2020 ceremony will also prove a to be another historic ceremony. In a year like no other in recent history, Chelsea Pensioners at the Royal Hospital Chelsea have held a special Covid-safe Ceremony of the Christmas Cheeses. The Ceremony featured a live speech from the Hospital Governor, the traditional blessing of the Christmas Cheese, a message of support from Dairy UK Chair Ash Amirahmadi and the ceremonial cutting of the Christmas Cheese.
This year's ceremony saw cheesemakers donate 258kgs of cheese to the Royal Hospital Chelsea as part of the long-standing tradition and is a testament to the continued support of the dairy sector for the Chelsea Pensioners.
Cutting this year's ceremonial 25kg Montgomery Cheddar was Chelsea Pensioner George Reed. George enlisted into the Army in February 1952 and joined the 8th Battalion Royal Fusiliers (TA) before enlisting into the Regular Army in 1953.
Reed was badged to the Royal Engineers and remained with them for three years until 1957 when he was discharged, he then re-joined the 8th Battalion Royal Fusiliers (TA) and served a further twenty one years working with the City of London Battalion/Fusiliers (Volunteers) and 5th Royal Regiment of Fusiliers. George was finally discharged in 1982 having served for a total of twenty-five years and promoted to the rank of Warrant Officer Class 2.
After his long career in the military George went on to have a successful civilian career in the BBC from 1961 to 1992. He joined the Royal Hospital Chelsea in 2018.
Reed commented: "On behalf of all the Chelsea Pensioners I want to say a big thank you to all the cheesemakers across the nation who have kindly contributed cheese to brighten up our Christmas. It was an honour to cut the cheese today, in a very different ceremony to usual. We look forward to welcoming them back to celebrate this wonderful tradition next year in person."
Dairy UK Chair Ash Amirahmadi recorded a speech which was played live as part of a socially distanced and Covid-19 safe Cheese Ceremony at the Royal Hospital. Mr Amirahmadi said: "It's a very different Ceremony this year; 2020 has given us all a humanity check and taught us more than anything to appreciate the power of human contact.
"This year more than ever we wanted to show our appreciation and support for the Chelsea Pensioners. When we reached out to members to ask for donations this year the support from cheesemakers the response was overwhelming, with cheeses sent from across all four corners of the UK for the In-Pensioners at the Royal Hospital to enjoy."