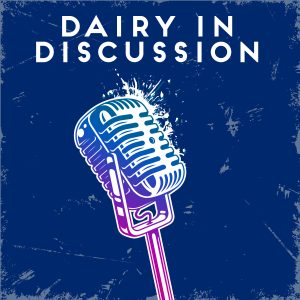 Monday 19th July 2021 – Dairy UK has launched the first ever episode of its new monthly podcast series 'Dairy in Discussion' looking at the impact Covid-19 had on the diets and training of Olympians and athletes.
Episode one of the 'Dairy in Discussion' podcast sees host Dairy UK Chief Executive Dr Judith Bryans interview three-time successive gold medal winning cyclist Ed Clancy OBE, ahead of his forth and final Olympic games in Tokyo this year. Dr Bryans is also joined by Wendy Martinson OBE, Lead Nutritionist for the Great British rowing team.
The episode, titled: 'Training in the Era of Covid-19' explores what role dairy has in the diets of athletes, how they managed the uncertainty of Covid-19, how the cancellation of big events like the Olympic games impacted their training and eating regimes, and what support mechanisms they had to help them through this period of uncertainty.
Commenting, Dr Bryans said: "I'm really excited to be launching our very first episode of Dairy in Discussion, and it was an honour to speak with Wendy and Ed about their experiences. Learning how Covid-19 impacted the nation's top athletes and their teammates was fascinating and will likely be relatable for many of us.
"What was clear was that within elite athletics nutrient rich dairy products like milk, cheese and yogurt are still a go-to for athletes, with their contribution of key nutrients like protein and calcium still widely recognised and valued.
"I look forward to our future episodes which will cover some of the biggest challenges facing the dairy sector. I'd urge anyone and everyone with an interest in dairy to subscribe to the series and tune in every month with a cup of tea to join the discussion."
New for 2021, the Dairy in Discussion podcast will explore a number of high level and broad themes relevant to the dairy sector and the wider food industry. Covering everything from diets and health, to sustainability, to consumption and enjoyment of dairy products – there's something for everyone.
Subscribe to Dairy in Discussions in Spotify or in iTunes to make sure you have access to the newest episodes.
Click here to visit our podcast page.