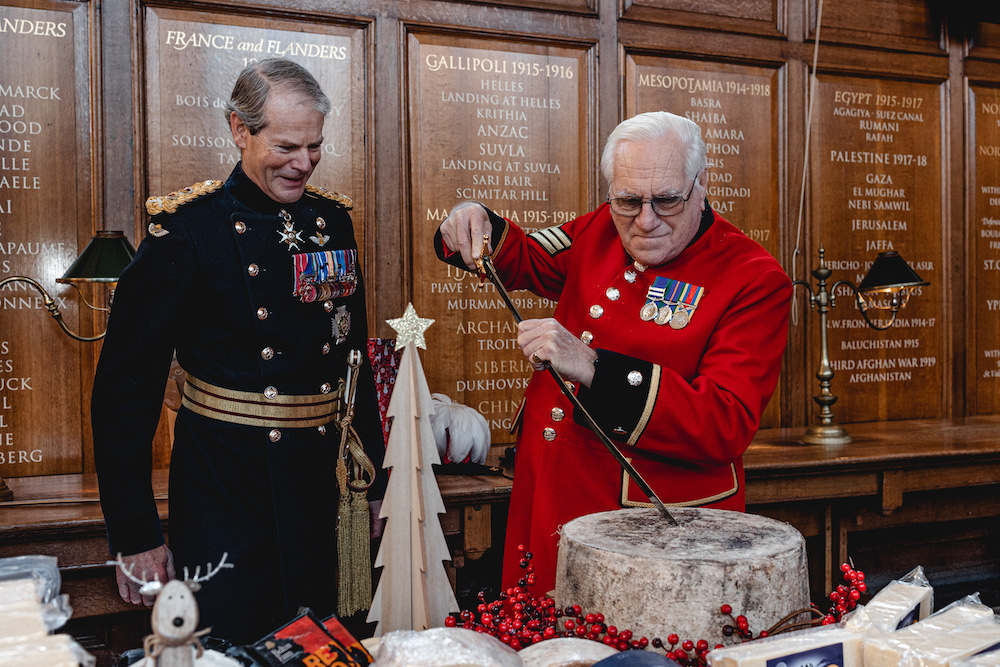 Cheesemakers from across the UK have donated a whopping 295kg (650lbs) of cheese to the Royal Hospital as part of the Annual Ceremony of the Christmas Cheeses, getting the festive season into swing. Now in its 63rd year, the Ceremony continues the rich tradition of British cheesemakers recognising and paying tribute to the service of the men and women of the Royal Hospital to this country.
As well as paying tribute to the Chelsea Pensioners, Dairy UK Chair Ash Amirahmadi highlighted how world events this year have raised the issue of food security to an even higher level than the early days of Covid. He explained how the role of the food industry in keeping the nation fed is critical.
Speaking on dairy and food security specifically, he commented: "As an industry we take very seriously our responsibility as one of the food sectors that helps to feed this nation. We know that people rely on us and although this year hasn't been easy for the sector, we have all worked hard to make sure there have been great tasting nutritious and increasingly sustainable dairy foods on supermarket shelves. It's an honour for us to be able to share many of our finest British cheeses with the men and women of the Royal Hospital in Chelsea today."
Cutting this year's 25kg (55lb) ceremonial Montgomery Cheddar was Michael Allen. Michael joined the Army aged 15 as a Boy Apprentice in 1957 and was badged to the Royal Military Police. Reaching adulthood, he then served in Kenya in 1961, in France from 1963 until 1966 and then joined the Far East Land Force in Borneo. He spent the remainder of his service alternating between Northern Ireland and Germany and he was eventually discharged in 1982 having served for twenty-four years and after being promoted to the rank of Sergeant. Michael then joined the Royal Hospital Chelsea in 2007.
Michael commented: "It's a privilege to be chosen to help commemorate such a long-standing tradition today. I would like to give my personal thanks to Dairy UK and all the companies who have supplied cheese for us to enjoy this Christmas, I am very much looking forward to sampling the some of these wonderful British cheeses!".
The history of cheesemakers donating to the Royal Hospital dates back to the opening of the Hospital when Sir Christopher Wren asked local cheesemongers to donate cheese to the Pensioners the year the hospital opened – 1692. After that, local cheesemakers continued making ad hoc donations. Sixty-three years ago, this became an organised and official event.
The Chelsea Pensioners were also treated to donations of vintage ale to accompany their cheese, donated by Asahi UK and Fuller's Griffin Brewery who support the event every year.
Entertaining guests at the Ceremony this year were BBC's Strictly Come Dancing performers Erin Boag and Ian Waite who danced a Viennese Waltz and a Foxtrot for the Pensioners and their guests.