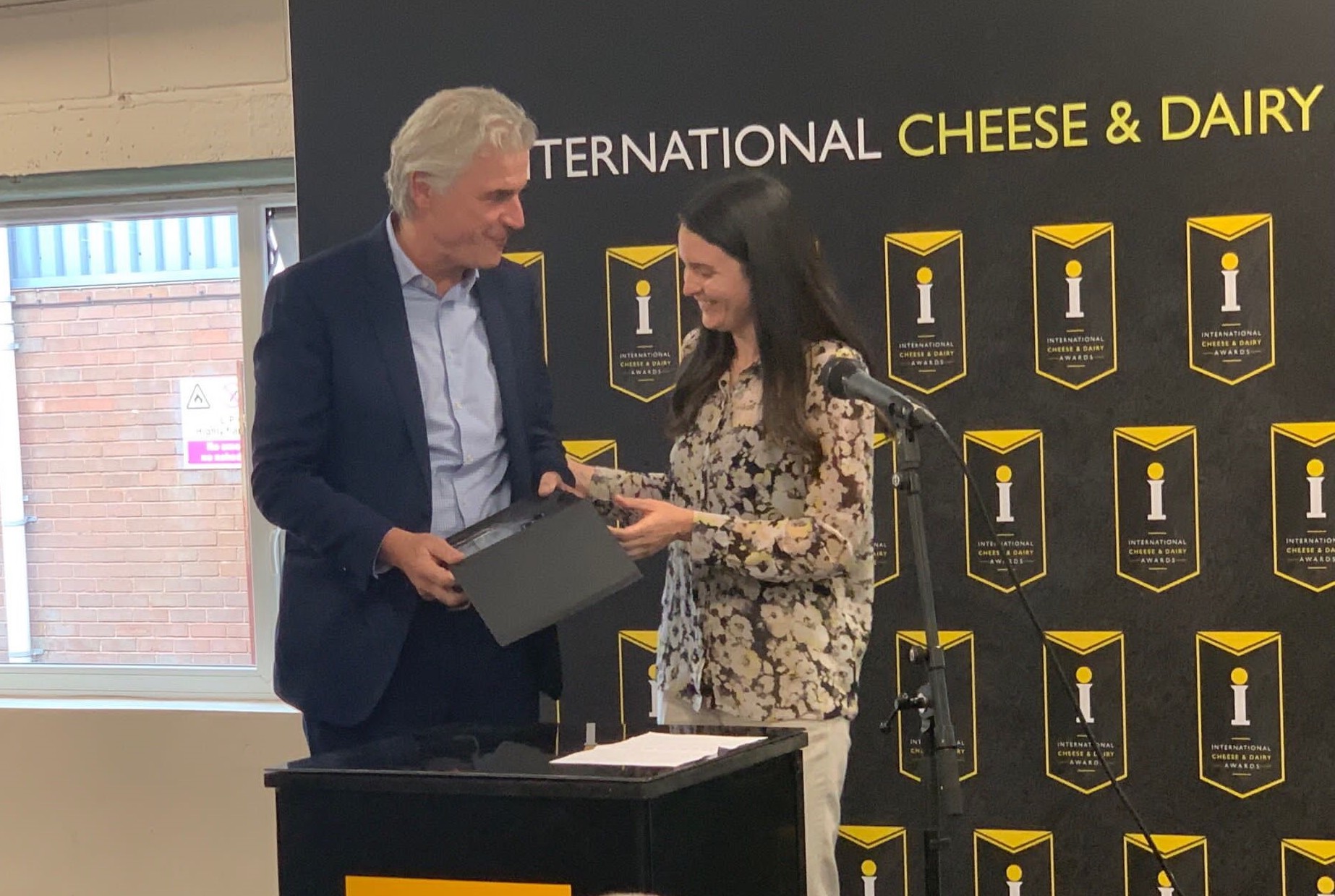 Belton Farm's Justin Beckett scooped Dairy UK's annual Cheese Industry Award at the International Cheese and Dairy Awards (ICDA) 2022 this week, in recognition of his dedication to British cheese making.
Industry VIP's and honoured guests gathered at the Staffordshire County Showground for the Trade Luncheon as part of the ICDA awards events this week, with Justin Beckett of Belton Farm picking up the Dairy UK Cheese Industry Award 2022.
Justin received the award for his industry leadership and work championing British cheeses, and successes in driving forward the sales of some of the UK's most iconic territorials. He has occupied a number of important industry roles, including being chair of the British Cheese Board and the Dairy UK Cheese Group, and as director of Farmhouse Cheesemakers. He was also a leading light in the Milk Development Council funded promotional campaign, to rejuvenate interest in and sales of Cheshire Cheese.
Receiving the award Justin was also recognised for his commitment to sustainability, taking action to drive forward carbon foot printing in the business and working with the Countryside Stewardship Scheme and Forestry Commission has planted 15,000 hardwood trees since 2007.
Dr Judith Bryans, Chief Executive of Dairy UK commented: "We've worked closely with Justin for many years and have seen first-hand his knowledge and dedication to making first class cheese as well as championing the promotion of great British cheeses. It's the enthusiasm and hard work of people like Justin which make the British cheese industry as vibrant, innovative and successful as it is. Many congratulations to Justin indeed!"
Ian Luxton, Chairman of the ICDA added: "The International Cheese and Dairy Awards are thrilled that the Dairy UK Industry Award for 2022 has been presented to Justin Beckett. Justin has been a wonderful ambassador representing the cheese industry in a number of roles over many years and is a worthy recipient this year."
Justin Beckett commented: "I am delighted to have received the Cheese Industry Award and would like to thank Dairy UK, it was a real surprise and a great honour. It has been a huge privilege to have been involved in the dairy industry for many years and rather special as the business is celebrating 100 years of cheese making by the Beckett family at Belton Farm."
After graduating from the Royal Agricultural College, Cirencester, Justin Beckett became the 3rd generation to join the family-owned farming and cheese making business, as a Quality Assurance Coordinator, before working his way up to become Managing Director. Through Justin's time at the business, Belton Farm has become one of the UK's leading territorial cheesemakers, and won the title of Supreme Champion Cheese twice.
Pictured: Justin Beckett presented with the Cheese Industry award by Luisa Candido of Dairy UK.